CCEC's AMI system provides CCEC and its members with several important benefits. The system helps CCEC with 24/7 meter reading, power quality monitoring and outage alarm notifications. That combined with our around-the-clock dispatch team and outage management system, improves service and accelerates outage notification, which means quicker service restoration and improved preventative maintenance. Outages are shown on our online outage map, accessible with a WiFi connected smartphone, tablet or computer.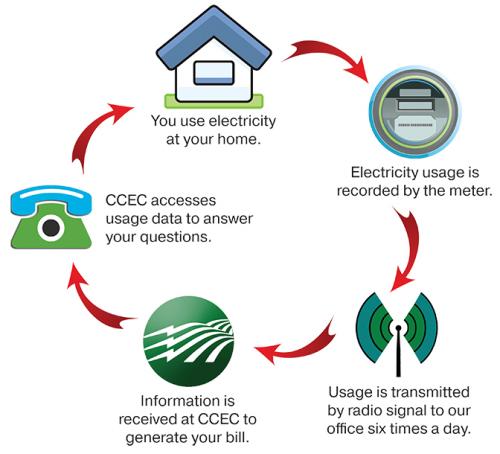 The diagram provides a simple view of the communication path for CCEC's AMI system. The system operates with direct radio communication between the meter and CCEC's towers, which are usually located on 100' CCEC-owned monopoles or area water towers. The system's direct communication is in contrast to other smart meter technologies that use unlicensed "mesh networks" that build a communications path by daisy-chaining area meters and repeaters. CCEC AMI system communicates through an FCC-licensed radio spectrum in the range of 901-940MHz.
Since communication is directed through a predefined route, transmissions typically occur six specific times in the day and only for a short duration, on average a tenth of a second. In addition, to take full advantage of the system, not all communications are scheduled, as alerts are sent in real time to inform CCEC's dispatch of abnormal conditions. Usually, CCEC's meters communicate with CCEC systems less than one minute a day.
An important benefit of CCEC's AMI system is the real time messages that are sent when meters detect alert conditions such as a power outages or low voltages. These conditions trigger a short message that is transmitted from the meter to the tower to alert CCEC's dispatch in near real time. The reverse is true, as well. Our customer service representatives have the ability to communicate, or as we say, "ping the meter," to receive a current reading and power quality information. An example of this would be when a member contacts the office inquiring about high energy use.
---
Sign up for two-way outage text messaging
Our AMI Meters, coupled with our outage management system, allow us to send alerts when your power goes out. It also allows you report an outage by texting "OUT"  or check the progress of outage restoration by typing "STATUS" to 1.800.682.2217.
If you aren't already signed up, simply text CCEMC to 1.800.682.2217. Please allow 24 hours for your information to be entered into our texting program.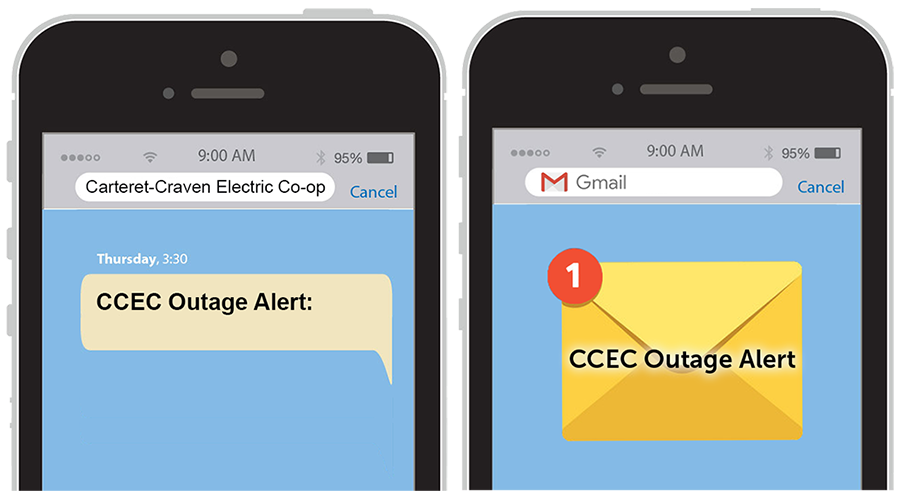 Coupled with our outage map you can be stay informed and be reassured that we know about your outage and are working on it.