Did you know that, as a Carteret-Craven Electric Cooperative member, you have access to the co-op's federal credit union? With this valuable member benefit, you'll have access to outstanding financing programs, higher savings rates, lower loan rates and fewer fees than you'll find at most other financial institutions.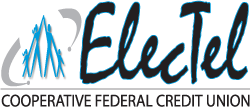 ElecTel's energy efficient loans are available for many residential improvements and may save you energy and money. Energy efficient improvements may include electric heat pumps, whole-house generators, weather stripping, electric/solar water heaters, insulation, windows, doors, and other solar or EnergyStar® related items.
Visit ElecTel Cooperative Credit Union for more information.