Account Inquiry and Payment System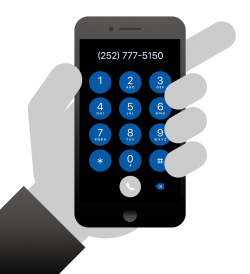 We have recently added a new pay-by-phone account inquiry and payment system, allowing you to manage your electric bill securely, conveniently and quickly.
The dedicated phone line features include:
Simple, guided process

Available 24/7

Fast payment, no waiting on hold

Voice or keypad entries
Dial 252.777.5150, and you will be guided through the process. Be sure to have your CCEC account number and payment information handy.
Members paying by phone are required to use the dedicated payment line. This will allow our customer service representatives to provide even better member support.
---
You've Got the Power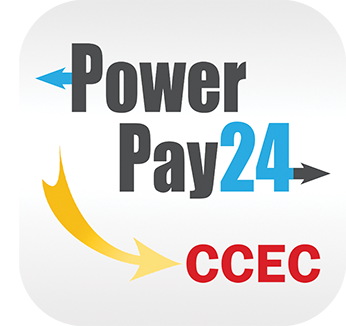 PowerPay24 offers simple and secure navigation, so you can pay your bill the way that's most convenient for you anytime 24/7. You'll also have the option to receive email reminders when a payment is due and a confirmation after making a payment. And, no registration is required to view or pay your bill. Note: If you downloaded the PowerPay24 app before March 2021, delete that app and download the newest version. Having trouble? Call us at 252.247.3107.
Pay Online: Carteret-Craven Electric Co-Op provides customers a fast, easy, and safe way to conveniently pay bills online. Payments methods include: Visa, MasterCard, Discover and Electronic Check.
Pay by Text: On the go? Sign up to get text notifications about your bill and have the option to pay through text. You may enroll in Pay by Text when making an online payment or by accessing your account and selecting the Pay by Text option. A confirmation will be sent to complete your enrollment.
AutoPay: Even better – don't worry about paying your bill at all! Enroll in AutoPay. Your bills will be paid on the due date, using your default credit card or bank account.*
This will avoid any late fees and free you from having to remember when to pay. Login to your account and click AutoPay to enroll.
*For those already enrolled in auto card or bank draft, your bill no longer shows "paid by card" or "your account will draft on (date)." Your account will be drafted on the due date.
Payment Scheduling: You choose when to pay. Scheduled payments are one-time individual payments that you schedule for any date you choose prior to the bill due date.
Remind Me: Need a reminder? Our Remind Me feature adds an alert to your calendar. You can also get email & text reminders from InvoiceCloud. To sign up for reminders, enroll in paperless, or to schedule a payment, simply click on the Make a Payment button to get started.
Mail: Just return your payment in the envelope included in the bill you receive in the mail. Be sure to use only blue or black ink on your check and to return the original bill stub with your payment. If you would like a duplicate bill, please let us know.
Go Paper Free! Reduce paper clutter and the need to file or shred documents. Go paperless to receive bills, reminders and receipts via email. You will get an email notification each time a new bill is ready for you to view and pay. Note: If you use PowerPay24 and do not want paperless billing, be sure to uncheck the box on the payment screen.
Don't have a PowerPay account? Click here to get started.
If online bill paying isn't for you, you can still mail your payment.
---
Get Bill Alerts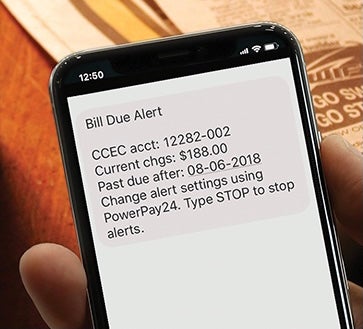 Our Member Alerts tool puts power in the palm of your hands. It is a simple and convenient way to get reminders about your electric bill and more. You chose the reminders you want to receive by email, text messaging or both.
Bill Ready

Bill Due

Payment Posted

Pending Disconnect
If you have a PowerPay24 account, you can sign in and select the messages you want to receive and how you want to receive them. Go to the communications tab and select "alerts and notifications."  Message and data rates may apply.
If you don't have a PowerPay24 account you can sign up at https://carteretcraven.coop.
NOTE: We recommend signing up for text and email alerts from a desktop computer, because the fields are easier to see and navigate.
---
Equalize Your Payments

Wouldn't it be nice to know just what your electric bill is going to be each month? With the cooperative's Equalizer billing, your monthly electric bills are totaled for the year and then divided into 12 equal payments. For new accounts, we estimate monthly usage. Either way, you can have peace of mind in knowing what your electric bill will be each month.
We periodically check the account to make sure the amount you are paying does not differ greatly from your actual usage. If it does, then we will let you know in time to make an adjustment that won't hit you all at once at the end of 12 months.
To see if you are eligible for the Equalizer program, call one of our customer service representatives at 252.247.3107 or 800.682.2217.