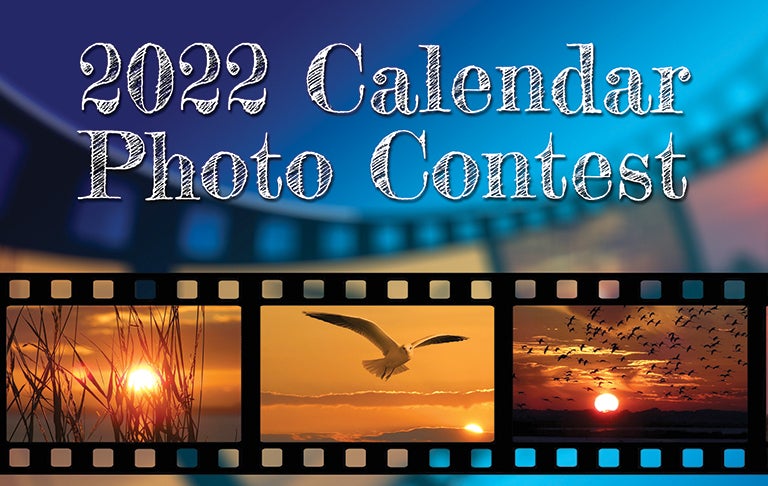 2022 Calendar Contest is Open
Give us your best shots! Entries are now being accepted for our 2022 wall calendar!
---
Photo Contest Guidelines
A panel of judges will select up to 14 winning photos (one for each month, one for the following January, and one for the cover).
The deadline is Aug. 15 each year. Judging will be done by the staff of Carolina Country magazine.
Winners will be notified when judging is completed. Their names' will be entered into a drawing for a $100 gift card.
Only Carteret-Craven Electric Co-op members may enter the contest. (CCEC employees and their immediate families and spouses are not eligible to enter the contest.)
Photos must be electronic.

Photos must capture the beauty of our area (consider photos taken during all seasons).

The photos must be taken by you, not someone else.

Photo submissions must include the following information:
Name

CCEC Account Number

Address

Phone

Email

Where photo was taken and a description
One membership (household) may submit up to 5 photos, but we may limit each photographer to no more than two winning entries.

Send photos to

melissag@ccemc.com

with "Photo Contest" in the subject line.
LOCATION
Submit photos taken in CCEC's service area and nearby areas.
FILE TYPE
JPEG digital images
FILE SIZE
Enter color photos that are appropriately sized for quality printing at 12 inches wide by 9 inches high (300 dpi resolution: minimum resolution of 3,600 pixels by 2,700 pixels).
FORMAT
Only horizontal pictures will be accepted. Vertical photos will be eliminated.
OWNERSHIP
Image must be an original you own.
PERMISSION
Scenic photos preferred. However, if individuals are identifiable in your photo, you must obtain the permission of anyone depicted for the photograph to be published in the calendar.
DEADLINE:

August 15, 2021
Email your questions to Communications Specialist at melissag@ccemc.com.