Each year, more than 1,800 exceptional high school students from across the country are selected to participate the National Rural Electric Cooperative Youth Tour. While in D.C., participants will have a chance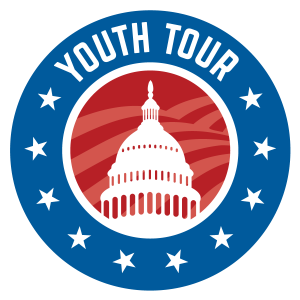 to meet with North Carolina's elected officials and discuss the critical issues back home, learn about the cooperative business model, visit historic monuments, memorials, and various Smithsonian museums.
The National Rural Electric Cooperative Youth Tour has grown into an invaluable program that gives young leaders an experience that will stay with them for the rest of their lives.Co-op officials and past Youth Tour participants say: Youth Tour is the perfect way for students to grow as a young leader in one of the world's most influential places.
In addition to a trip to Washington, DC, Youth Tour participants are eligible to apply for several college scholarships available only to Youth Tour participants.
CCEC will send one high school student to our nation's capital to participate in Youth Tour 2023.
The Youth Tour delegate will be selected based on the completion of an application and a short essay. Current high school sophomores, juniors and seniors living in a home served by the cooperative are eligible to apply.
Youth Tour will be held June 17-23, 2023.
The 2023 application period is now closed. Check back in October for more information about Youth Tour 2024.
Please contact Communications Director, Melissa Glenn, at 252.727.2221 or melissag@ccemc.com with any questions.