In the February issue of Carolina Country, I provided a brief summary of major outages that occurred on our system at the end of 2022.  Below I would like to provide more information concerning the outage events:
While outages in our service area are never a positive experience, the three major outages at the end of 2022 were especially disruptive to the cooperative and its members. While outages are never a good thing, these outages were costly to the cooperative and especially disruptive given that two of the three major outages occurred on holidays.
We know that holidays are a sacred time when families and friends gather for fellowship. These opportunities don't come along as often as they should, and it is very unfortunate when they are disrupted by a power outage.
The first event, the vandalism at our Maysville Substation, occurred in the early hours of Nov. 11 and affected 13,324 members from Maysville to Emerald Isle. While the outage duration was limited to roughly two hours, a testament to the timely response of our operations personnel, the equipment vandalized will ultimately cost our cooperative close to a million dollars to repair. In fact, the repair work is still ongoing today, as current supply chain issues have led to extended lead times on several damaged pieces of equipment. We will continue to coordinate with law enforcement to bring those responsible to justice, and we will continue to work with other electric cooperatives, industry experts, and local communities to strengthen our critical resources. We request that our members share any information that they may have about this event or any future suspicious activity that they witness around critical infrastructure.
The second major outage was initiated by Duke Energy Progress (DEP) and occurred during Winter Storm Elliot on Christmas Eve and affected 2,341 cooperative members in Harkers Island and Otway. With extreme cold and unusual high demand for a December weather event, DEP implemented service disruptions that affected 500,000 North Carolinians. This included members served by the cooperative's Harkers Island and Otway substations, which are fed directly by a DEP distribution line.
DEP quickly took this action to support the larger electric grid and reduce the possibilities of more widespread outages of longer duration. The majority of the outages were restored at noon with the exception being Harkers Island Road which was delayed because one of our poles broke during the event.  A load reduction event of this magnitude, the first of its kind in North Carolina, is being studied by federal and state industry leaders.
We want to thank our members that responded to our requests to reduce their consumption during this critical event. Their participation helped shorten the outage durations experienced by other utility customers. Going forward, we pledge to work with our utility counterparts to learn from this event and improve our service and communications.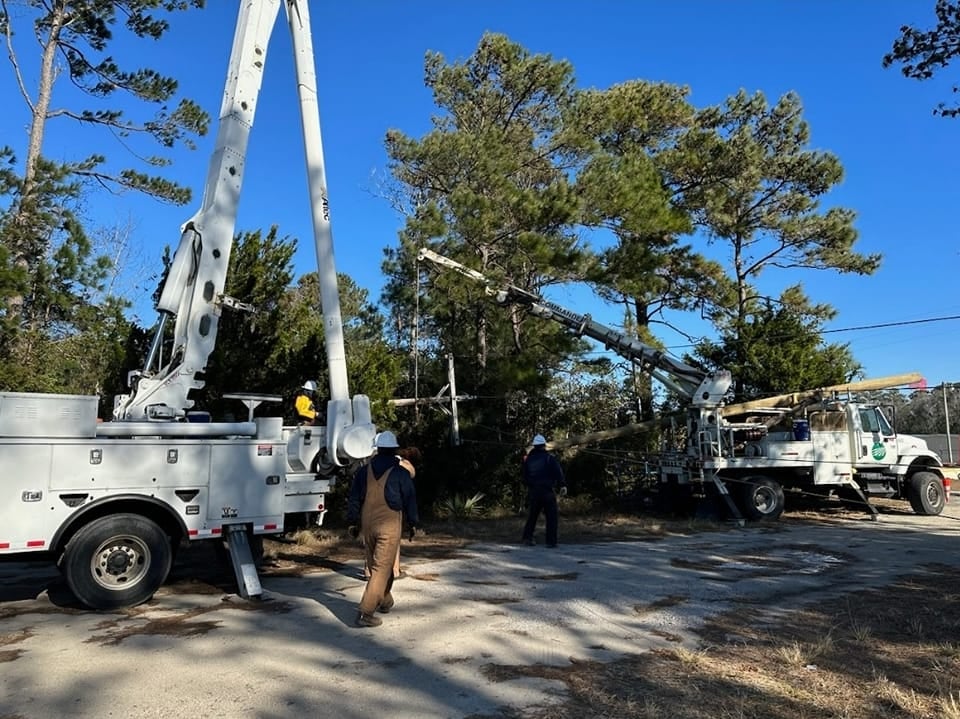 The last major outage event occurred on New Year's Eve and affected 9,494 members around Morehead City and along Bogue Banks from Atlantic Beach to the east side of Emerald Isle. The source of the outage was an insulator that failed on our transmission line right outside our Rock Point substation. An insulator is a critical component that supports the weight of the line and provides a barrier to contain the flow of electricity. The location of the insulator at the substation necessitated that it be replaced in order to restore power. This extended the outage, with our members in Pine Knoll Shores experiencing the longest outage at eight hours and thirty minutes.
Since the outage event, we have replaced damaged insulators and performed additional maintenance in our coastal substations. We had a drone inspection performed at the end of last year, and we are reviewing the data to determine how we can replace these insulators before they fail and cause an outage.
We are deeply sorry for the difficulties that these outages placed on you during the holidays, and we will continue into the new year renewing our commitment to provide safe, reliable, and affordable energy to you, our members.