Carteret-Craven Electric Cooperative is now accepting applications for full scholarships to basketball camps at two North Carolina universities this summer.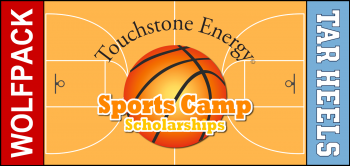 Middle school boys can apply for a scholarship to attend the Carolina Basketball School at the University of North Carolina at Chapel Hill, and middle school girls can apply for a spot at the Wolfpack Women's Basketball Camp held at North Carolina State University in Raleigh. These camps will take place in June 2022.
To apply, students must be a rising sixth or seventh grade student. Applicants will be judged on their academics, extracurricular activities and an essay.
Applications must be submitted by March 31. To learn more and apply, visit ccemc.com/SportsCamps.